 Dear Auckland Builder,
Are You Losing Money Because of Incorrect Project Costings?
Newin specialises in assisting builders across Auckland  who may not have the expertise, time or resources to conduct accurate costing over projects.
As leading industry experts, Newin is a trusted choice that can help you get it right.
Our solutions allow builders to successfully and cost-effectively outsource the costing side of projects.
So why not contact us for a no-obligation meeting today and see how we can make your business better.
We do costing differently and that means you won't blow the budget
Are you at risk of underquoting jobs?
Underquoting in the building industry is a common issue. The leading reason for this is lack of accuracy in cost budget planning.
Newin does costing differently!
We create project costings based on current market prices and rates and account for every detail. Complete breakdowns are provided to ensure full transparency.
We believe that detailed accurate budgets are the only way to ensure you maintain complete control over your projects.
Are you struggling to manage your projects on time and to budget?
At Newin, we know that accurate, detailed, and complete budgets covering every stage and aspect of the project is the only way to ensure you don't blow the budget and can manage client expectations.
For your peace of mind, Newin is also able to provide ongoing support to the project team and ensure they are fully equipped to manage and control project and trade costs at all stages.
Are you looking for cost-effective expertise to better manage projects and without hiring staff?
As a builder, taking time out to manage projects, subcontractors, and cost budgets may not be the best use of your time, and the expense of hiring more staff may not be a viable investment for your business.
We offer builders a cost-effective outsourcing solution, where we become an extension of your team, bringing you cost and construction expertise.
We are serious contract administration experts, so you can feel secure that your project will be managed efficiently, will complete on time, and will stay within budget.
Don't let bad quoting destroy your business
Providing quotes which do not adequately cover the real cost of a job can ruin your reputation or put you out of business.
A key aspect of winning more building jobs and maintaining your excellent reputation is to ensure you don't blow your budget or that of the client.
And this all starts with the accuracy of your quotes.
With Newin as your quote costing partner, and using our specialised system, you'll be able to significantly reduce the error rates of your quotes.
Our expert services support you from start to end
Our building cost outsourcing services include:
 

Creating detailed project cost budgets before construction begins

 B

reakdown of all trade items

 

Ensuring all quotes reflect current market rates, prices, and indices

Quantity surveying services and BOQ reports through all phases of construction, meaning "no surprises"

Project management expertise to help you stay on track and budget

Custom-made building consultancy services for commercial, industrial and residential construction projects. Call us for a chat?

 We understand budget is important to your profitability. Our cost plans start from NZD$800+GST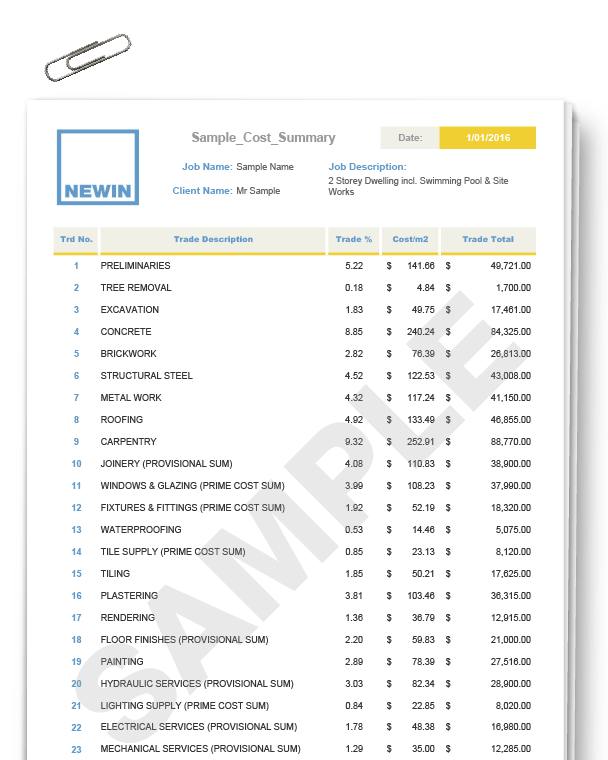 The benefits of outsourcing your costing with Newin
Cost Expertise
You'll get to tap into our 18 years of industry experience and specialist approach to delivering highly accurate cost estimates and quantity surveys.
All Types of Projects
We've built a team that has solid experience over a range of projects; commercial, industrial or residential construction projects.
Same Time and Money
You won't have to worry about training staff or the risk of inaccurate reports. We'll help reduce your in-house admin time and costs significantly.
Grow Your Business
When you don't have to worry about your costing process, you can focus on what really matters - growing your business and making your clients happy.
Call us for a
Free

No-Obligation Phone Consultation
And Discover The 3 Biggest Mistakes We'll Stop You From Making